Game Overview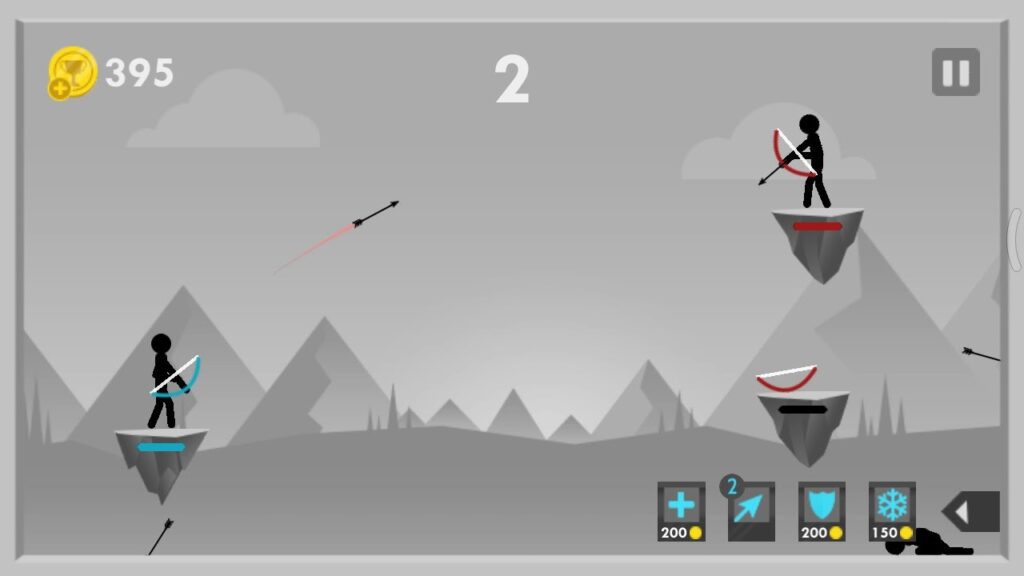 Stickman Archer 2 is an engaging and challenging archery game that places players in the role of a skilled stickman archer. Test your accuracy and reflexes as you engage in fierce archery battles against other stickman opponents.
Game Controls
Understanding the controls in Stickman Archer 2 is crucial for precision and success:
Mouse: Use your mouse to aim and adjust the angle of your shot. Click to release arrows at your enemies.
How to Play
Stickman Archer 2 offers an immersive and competitive gameplay experience with the following instructions:
Objective: Your primary objective is to eliminate all opposing stickman archers while dodging their arrows.
Aim and Shoot: Use your mouse to aim at the enemy stickmen. Click to release arrows. Aim for headshots to take them down faster.
Movement: Maneuver your stickman character to avoid incoming arrows from opponents.
Power-Ups: Collect power-ups and special arrows to gain advantages in battles.
Survival: Stay alive as long as possible to achieve high scores and unlock new levels.
Tips and Tricks
To become a master archer in Stickman Archer 2, consider these valuable tips and tricks:
Precision Aim: Take your time to aim accurately for headshots to eliminate enemies swiftly.
Dodging: Keep moving to evade enemy arrows. Don't stay in one spot for too long.
Power-Up Timing: Use power-ups strategically when facing tough opponents or multiple enemies.
High Score Strategy: Focus on survival to achieve higher scores and unlock more levels.
Game Developer
Stickman Archer 2 is developed by Beedo Games, known for creating addictive and challenging stickman-themed games.
Game Platforms
Mobile Devices: Download the game on iOS and Android devices to play on the go.
How to Play Unblocked
Playing Stickman Archer 2 unblocked is straightforward. Visit reputable gaming websites or platforms that host the game, and you can typically access and play it without restrictions. Always choose trusted sources for a secure and enjoyable gaming experience.
Now, test your archery skills and compete against other stickman archers. If you have any further questions or need additional information, feel free to ask.