Game Overview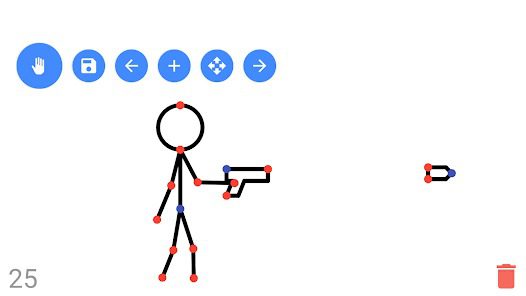 Stick Fighter is an engaging and action-packed fighting game that features stickman characters in intense martial arts battles. Test your combat skills and defeat opponents in thrilling one-on-one duels.
Game Controls
Understanding the controls in Stick Fighter is essential for mastering the art of combat:
Arrow Keys: Use the arrow keys on your keyboard to move your stickman fighter.
A and S Keys: Press 'A' for a quick attack and 'S' for a strong attack.
D Key: Use the 'D' key to defend against enemy attacks.
How to Play Stick Fighter
Stick Fighter offers a straightforward and fast-paced gameplay experience with the following instructions:
Objective: Your primary objective is to defeat your opponent in a series of duels by using a combination of quick and strong attacks while defending against their strikes.
Movement: Use the arrow keys to move your stickman fighter left and right, avoiding enemy attacks and positioning yourself for effective strikes.
Attacks: Press 'A' for a swift punch and 'S' for a more powerful attack. Time your attacks carefully to land hits on your opponent.
Defense: Use the 'D' key to defend yourself against incoming enemy attacks. Timing your defenses is crucial for survival.
Winning Rounds: Win a set number of rounds to emerge as the overall victor in the match.
Tips and Tricks
To become a skilled stickman fighter in Stick Fighter, consider these valuable tips and tricks:
Timing Matters: Master the timing of your attacks and defenses to gain an advantage over your opponent.
Combination Strikes: Create combinations of quick and strong attacks to keep your opponent off balance.
Practice: Play regularly to improve your reflexes and fighting skills.
Game Developer
Stick Fighter is developed by StickPage, known for creating entertaining and action-packed stickman-themed games.
Game Platforms
Mobile Devices: Download the game on iOS and Android devices to play on the go.
How to Play Unblocked
Playing Stick Fighter unblocked is simple. Visit reputable gaming websites or platforms that host the game, and you can typically access and play it without restrictions. Always choose trusted sources for a secure and enjoyable gaming experience.
Now, step into the arena, showcase your martial arts prowess, and emerge victorious in epic stickman battles in Stick Fighter. If you have any further questions or need additional information, feel free to ask.