Game Description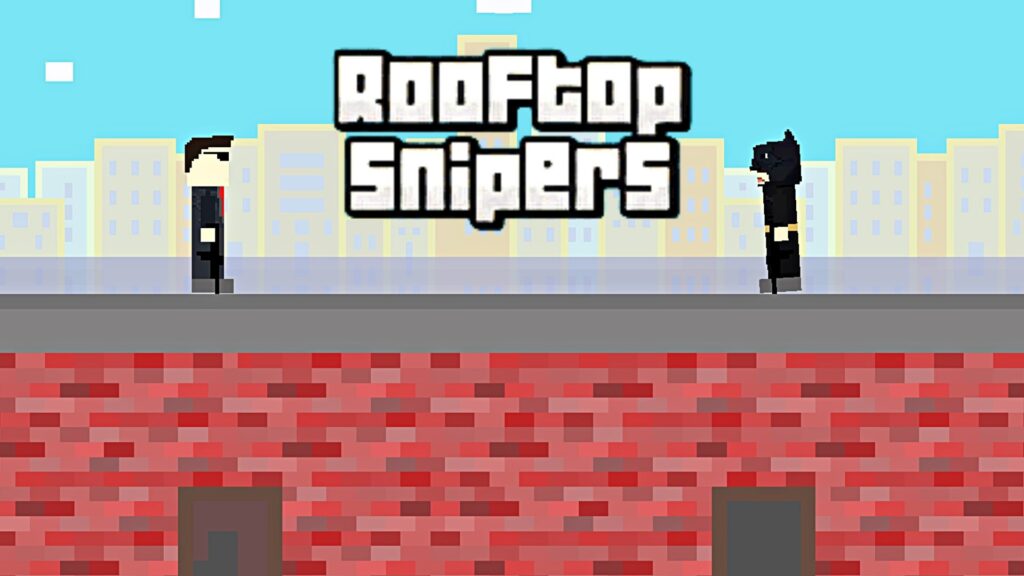 Rooftop Snipers is a thrilling and addictive 2-player shooting game that places you and a friend on the rooftops, armed with sniper rifles. The goal is simple: take out your opponent before they get you. With its straightforward yet engaging gameplay, this unblocked game offers hours of competitive fun.
Game Controls
Before you step onto the rooftop battleground, it's important to familiarize yourself with the game controls:
Player 1:

Move: "E" key
Jump: "W" key
Shoot: "Q" key

Player 2:

Move: Arrow key (left)
Jump: Arrow key (up)
Shoot: Spacebar
How to Play
Rooftop Snipers is easy to pick up and play. Here's how to engage in sniper duels on the rooftops:
Choose Your Character: Player 1 and Player 2 each select their character. These characters are quirky and fun, each with their own unique style.
Duel on the Rooftops: Once the game begins, you and your opponent will appear on a rooftop. Your goal is to eliminate your opponent by shooting them with your sniper rifle.
Aim and Shoot: Use the controls mentioned above to move, jump, and shoot. Take careful aim and time your shots to hit your opponent. A single well-placed shot is enough to win a round.
Win Rounds: Win multiple rounds to secure victory in the game. Rounds are quick, so you can engage in multiple matches in a short amount of time.
Tips and Tricks
To become a rooftop sniper champion, consider these tips:
Control Your Jumps: Timing your jumps is essential. Jumping at the right moment can make you a more challenging target and help you avoid incoming shots.
Aim Carefully: Take your time to aim your shots. A well-aimed shot is more likely to hit its mark. Don't waste your limited ammo.
Mind the Environment: The game's rooftop settings have obstacles and hazards. Use them to your advantage, or be cautious not to fall off the edge.
Psych Out Your Opponent: Sometimes, unpredictable movements can throw off your opponent's aim. Surprise them with your agility.
Game Developer
Rooftop Snipers is developed by Michael Eichler, a game developer known for creating various small and entertaining browser games.
Game Platforms
Download the game on iOS and Android devices to play on the go.
How to Play Unblocked
Playing Rooftop Snipers unblocked is straightforward. It's often hosted on various websites that provide unblocked games. Search for trusted sources that offer the game without restrictions and enjoy quick and competitive sniper duels with your friends.
In conclusion, Rooftop Snipers is a fast-paced and amusing game that challenges your sniper skills. Whether you're playing against a friend or facing off against the computer, the simple yet addictive gameplay will keep you entertained for hours on end.