Game Overview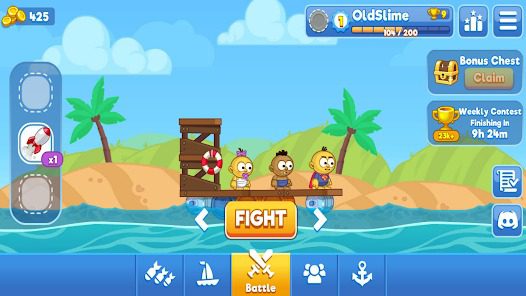 Raft Wars 2 is a fun and entertaining online strategy game that combines elements of physics, aiming, and strategy. It's the sequel to the popular game Raft Wars, and it offers an engaging storyline and challenging gameplay.
Game Controls
Understanding the controls in Raft Wars 2 is crucial for aiming and shooting accurately:
Mouse: Use the mouse to aim your weapon.
Left-Click: Click the left mouse button to fire your weapon.
How to Play
Raft Wars 2 offers an exciting and strategic gaming experience with the following instructions:
Objective: Your primary goal is to defeat opponents by accurately aiming and launching projectiles at them.
Storyline: Follow the storyline as Simon, the protagonist, and his brother embark on an adventure to recover their treasure from pirates.
Aiming: Use the mouse to aim your weapon. Move the cursor to adjust the trajectory of your shots.
Shooting: Click the left mouse button to fire your weapon. Your goal is to hit your opponents and deplete their health.
Obstacles: Be mindful of obstacles and barriers in the environment that can affect the path of your shots.
Winning: To progress in the game, defeat all opponents in each level to reclaim your treasure.
Upgrades: Earn money as you progress and use it to purchase upgrades for your weapons and character.
Challenges: Face increasingly challenging opponents and levels as you advance through the game.
Tips and Tricks
To excel in Raft Wars 2, consider these valuable tips:
Aim Carefully: Take your time to aim accurately to hit opponents effectively.
Upgrade Strategically: Invest in weapon upgrades to improve your chances of success.
Observe Patterns: Study the movement patterns of your opponents to anticipate their actions.
Game Developer
Raft Wars 2 is developed by Martijn Kunst, a game developer known for creating engaging and entertaining online games.
Game Platforms
Mobile Devices: Download the game on iOS and Android devices to play on the go.
Playing Raft Wars 2 unblocked is straightforward. Visit websites or platforms that host the game, and you can typically access and play it without restrictions. Ensure that you choose reputable sources to ensure a safe and enjoyable gaming experience.
Now, join Simon and his brother in their quest for treasure and strategic battles! If you have any further questions or need additional information, feel free to ask.