Game Overview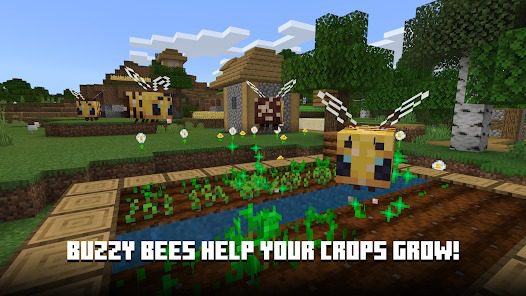 Minecraft is a wildly popular sandbox game that offers players endless opportunities for creativity, exploration, and adventure. Developed by Mojang Studios, this game has captured the hearts of millions with its blocky world filled with limitless possibilities.
Game Controls
Understanding the controls in Minecraft is essential for navigating and interacting with the game world:
W, A, S, D (or Arrow Keys): Use these keys to move your character forward, backward, left, and right.
Spacebar: Press the spacebar to jump.
Mouse: Move the mouse to control your view and aim.
Left-Click: Click the left mouse button to interact with blocks or attack.
Right-Click: Click the right mouse button to place blocks or use items.
E: Press the "E" key to open your inventory and access crafting.
1-9: Use the number keys 1 through 9 to select items from your hotbar.
How to Play Minecraft
Minecraft offers a vast and open-ended gaming experience with the following instructions:
Objective: In Minecraft, there is no specific objective, allowing players to set their own goals. However, survival mode includes staying alive by gathering resources, building shelters, and defending against hostile creatures like zombies and skeletons. Creative mode lets you build without limits, and adventure mode offers custom gameplay experiences.
World Creation: Start by generating a new world or joining an existing one. You can choose between various game modes, including Survival, Creative, and Adventure.
Resource Gathering: Begin by gathering essential resources like wood, stone, and coal. These materials are crucial for crafting tools and building structures.
Crafting: Open your inventory and use the crafting table to create tools, weapons, and various items. Crafting recipes are essential to progress.
Building: Use your creativity to construct buildings, fortresses, and intricate structures using blocks and materials.
Exploration: Venture into caves, forests, deserts, and other biomes to discover valuable resources, creatures, and hidden treasures.
Survival: In survival mode, be vigilant against threats like hostile mobs, hunger, and environmental hazards.
Multiplayer: Join multiplayer servers to interact with other players, collaborate on projects, and engage in player-versus-player (PvP) or cooperative gameplay.
Tips and Tricks
To thrive in the world of Minecraft, consider these valuable tips:
Plan Your Builds: Create blueprints and plan your structures before building them.
Resource Management: Use resources wisely and efficiently.
Explore: Don't be afraid to explore and discover new areas.
Redstone Engineering: Learn the intricacies of redstone circuits for advanced creations.
Game Developer
Minecraft is developed by Mojang Studios, a subsidiary of Microsoft. The game's creator, Markus Persson, initially developed it.
Game Platforms
Mobile Devices: Download the game on iOS and Android devices to play on the go.
How to Play Unblocked
Playing Minecraft unblocked typically involves purchasing and downloading the game from official sources or platforms. Be cautious of unofficial sources to ensure a safe and legitimate gaming experience.
Now, dive into the limitless world of creativity and adventure in Minecraft, where you can build, explore, and survive to your heart's content! If you have any further questions or need additional information, feel free to ask.