Game Description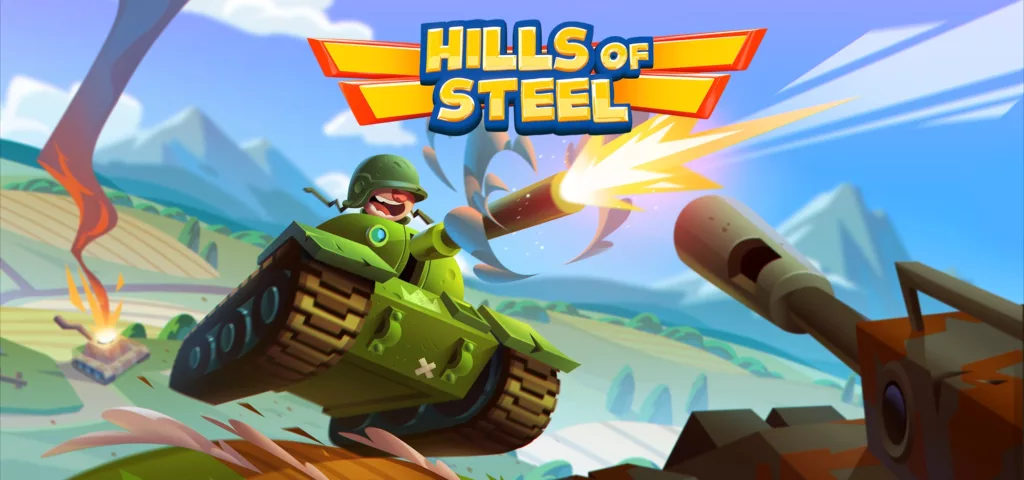 Hills of Steel is a tank battle game that takes you to diverse terrains, where you'll combat opponents in intense and strategic duels. Your mission is to control a tank and conquer the hills while engaging in explosive battles, making every moment an exhilarating adventure.
Game Controls
Before you embark on your tank warfare journey, it's essential to acquaint yourself with the game controls:
Tank Movement: Use the on-screen joystick to steer your tank through rugged landscapes.
Aim and Fire: Tap on the screen to aim and release to fire at your enemies.
Weapon Selection: Switch between different weapons using the weapon icons on the screen.
How to Play Hills of Steel
Here's a comprehensive guide on how to excel in Hills of Steel and become a formidable tank commander:
Character Customization: Begin by personalizing your tank's appearance and loadout to match your preferred playstyle.
Select a Game Mode: Choose from various game modes, each offering unique challenges and objectives.
Map Exploration: Familiarize yourself with the game maps, paying close attention to strategic positions, terrain features, and enemy spawn locations.
Team Cooperation: In team-based modes, work closely with your teammates, communicate effectively, and coordinate your efforts to secure victory.
Aim and Precision: Develop your aiming skills to target enemy tanks accurately, especially in long-range engagements.
Positioning and Cover: Use the terrain to your advantage, take cover when necessary, and exploit favorable positions for both offense and defense.
Upgrades and Customization: Earn in-game currency to upgrade your tank's attributes, unlock new weapons, and enhance your combat effectiveness.
Tips and Tricks
To dominate the battlefield in Hills of Steel, consider these essential tips and tricks:
Terrain Awareness: Familiarize yourself with the landscape to find cover and advantageous positions.
Weapon Choice: Each tank features different weapons. Choose the one that suits your playstyle and the terrain.
Power-Up Timing: Use power-ups strategically, especially during critical moments in battles.
Upgrade Wisely: Invest in tank upgrades that align with your preferred tactics.
Teamwork: In team modes, communication and coordination with teammates are key to success.
Game Developer
Hills of Steel is developed by Superplus Games, a game development studio known for creating engaging and action-packed titles that captivate gamers.
Game Platforms
Hills of Steel is available on various platforms, ensuring players can engage in tank battles on their preferred devices. These platforms include:
iOS: Play Hills of Steel on your iOS devices and enjoy tank warfare on the go.
Android: Android users can download the game from the Google Play Store and join the tank battles.
How to Play Unblocked
For those eager to engage in Hills of Steel unblocked, it's essential to do so through legitimate and ethical means. Here's your gateway to unhindered gameplay:
Official Websites: Play Hills of Steel through official game websites that provide unblocked access, adhering strictly to terms and conditions.
Network Permissions: If you find yourself within a network with restrictions, discuss the possibility of unblocking the game with your network administrator.
Local Installation: Download and install the game on your personal device to enjoy uninterrupted gameplay, free from network restrictions.
In conclusion, Hills of Steel offers an exhilarating tank battle experience that combines strategic gameplay with explosive combat. As you master the controls and apply the provided tips and tricks, you'll find yourself immersed in intense battles across challenging terrains. Play responsibly on supported platforms or unblock the game through legitimate means while adhering to network policies and guidelines.