Game Overview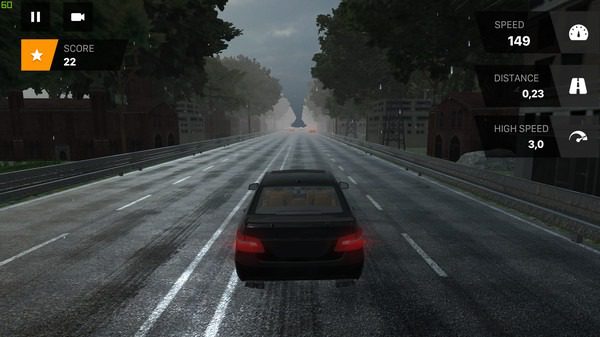 Highway Traffic is an exhilarating endless racing game that puts players behind the wheel of fast cars on busy highways. Developed by an independent game developer, it offers an adrenaline-pumping experience with endless challenges.
Game Controls
Understanding the controls in Highway Traffic is essential for mastering the game:
Arrow Keys (Left/Right): Use the left and right arrow keys to steer your car.
Up Arrow Key: Press the up arrow key to accelerate and increase your car's speed.
Down Arrow Key: Use the down arrow key to brake and slow down.
How to Play Highway Traffic
Highway Traffic offers a thrilling racing experience with the following instructions:
Objective: Your primary goal is to drive as far as you can on the busy highway without crashing into other vehicles.
Acceleration: Start by accelerating your car using the up arrow key to match the speed of the traffic.
Steering: Use the left and right arrow keys to navigate through the lanes and avoid collisions with other vehicles.
Avoid Collisions: Pay close attention to the traffic and steer your car to avoid crashing into other cars and obstacles.
Collect Coins: Along the way, collect coins to earn points and unlock new cars or power-ups.
Power-Ups: Some power-ups can provide temporary advantages, such as invincibility or a speed boost. Collect them to gain an edge.
Traffic Density: Be prepared for increasing traffic density and higher speeds as you progress, making the game more challenging.
High Score: Aim to achieve the highest possible score by driving as far as you can without crashing.
Tips and Tricks
To excel in Highway Traffic, consider these valuable tips:
Stay Alert: Keep a close eye on the road and traffic to anticipate and avoid collisions.
Timing: Master the timing of lane changes to slip through traffic smoothly.
Upgrade Your Car: Use collected coins to upgrade your car's performance or unlock better vehicles.
Game Developer
Highway Traffic is developed by an independent game developer passionate about creating engaging and addictive racing games.
Game Platforms
Mobile Devices: Download the game on iOS and Android devices to play on the go.
How to Play Unblocked
Playing Highway Traffic unblocked is simple. Visit websites or platforms that host the game, and you can typically access and play it without restrictions. Ensure that you choose reputable sources to ensure a safe and enjoyable gaming experience.
Now, buckle up and hit the highway for an exciting race in Highway Traffic! If you have any further questions or need additional information, feel free to ask.