Game Description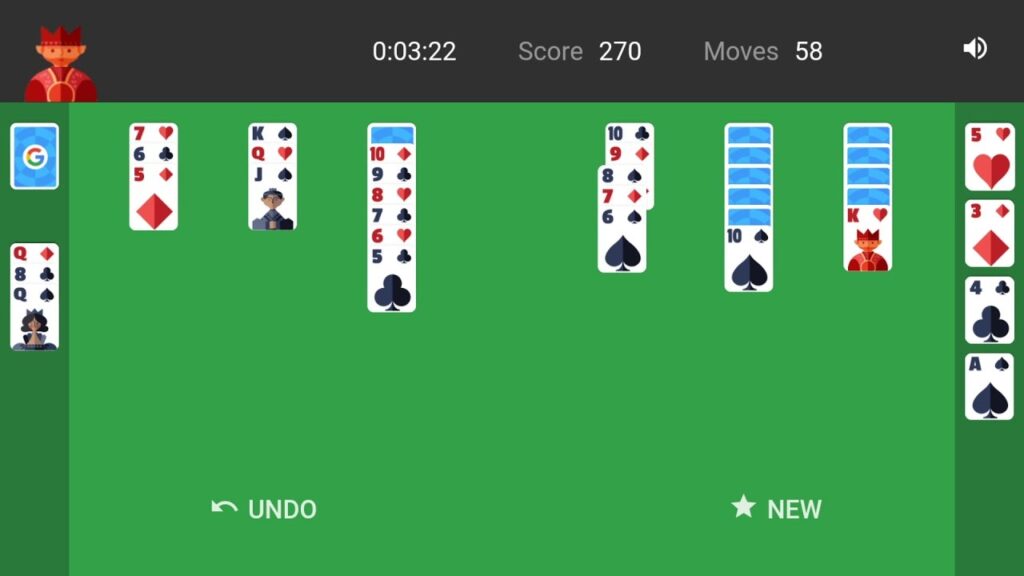 Google Solitaire is a classic card game that offers a relaxing and entertaining way to pass the time. Developed by Google, this game is a digital version of the traditional solitaire card game. It provides a simple and intuitive platform for players to enjoy the timeless game of solitaire.
Game Controls
Mouse Controls
Click and Drag: Move cards.
Left-click: Select and place cards.
How to Play Google Solitaire
Enjoy a game of solitaire with these straightforward steps:
Deal the Cards
The game begins by dealing a standard deck of 52 cards into seven columns, with the first column having one card, the second having two cards, and so on. The top card in each column is face-up, and the rest are face-down.
Build Foundation Piles
Your goal is to move all the cards to the foundation piles, starting with the Ace and ending with the King in each suit (hearts, diamonds, clubs, spades).
Move Cards
You can move cards between columns to create descending sequences of alternating colors (e.g., black and red). For example, you can move a black 7 onto a red 8.
Flip Face-Down Cards
As you move cards from a column, any face-down card below them will be automatically flipped face-up.
Use the Stock Pile
If you can't make any more moves with the cards on the table, you can draw from the stock pile, where additional cards are kept.
Winning the Game
The game is won when all the cards are successfully moved to the foundation piles, arranged in ascending order from Ace to King in each suit.
Tips and Tricks
To enhance your solitaire skills, consider these tips:
Plan Your Moves: Before making a move, take a moment to consider the consequences and potential options. Planning ahead can lead to better decisions.
Empty Columns: Try to create empty columns as early as possible. These can serve as temporary storage for cards and give you more maneuvering space.
Uncover Face-Down Cards: Whenever possible, prioritize moving cards that cover face-down cards. Uncovering face-down cards increases your options.
Stock Pile Strategy: Use the stock pile wisely. Draw from it when necessary, but avoid cycling through it too quickly. Reserve it for critical moves.
Game Developer
Google Solitaire was developed by Google, one of the world's leading technology companies known for its search engine, software, and various online services.
Game Platforms
You can enjoy Google Solitaire on various platforms:
Web Browser: Access the game for free directly in your web browser by searching for "Google Solitaire."
Mobile Devices: Download the game on iOS and Android devices to play on the go.
How to Play Unblocked
To play Google Solitaire unblocked, follow these steps:
Check School or Work Restrictions: Ensure that your school or workplace doesn't have strict internet restrictions or content filters that might block gaming websites.
Visit the Official Website: Go to the official Google Solitaire website (www.google.com) to access the unblocked version of the game.
Internet Connection: Make sure you have a stable internet connection to enjoy uninterrupted gameplay.
Enjoy Uninterrupted Solitaire: Once you've accessed the unblocked version, you can enjoy the classic solitaire card game without any restrictions. It's a perfect way to unwind and sharpen your card-playing skills.
In summary, Google Solitaire offers a convenient and accessible way to enjoy the classic solitaire card game. Whether you're a solitaire enthusiast or looking for a casual game to pass the time, this digital version provides a delightful gaming experience. So, shuffle the cards, strategize your moves, and aim for a victorious finish!