Game Overview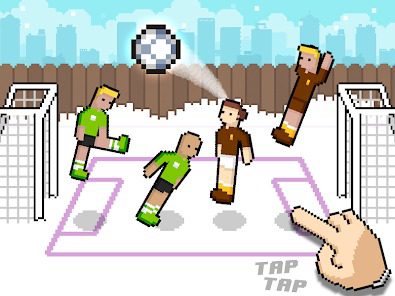 Soccer Random is a fun and chaotic online multiplayer soccer game that brings a unique twist to the traditional sport. With its unpredictable elements, it offers a lighthearted and enjoyable gaming experience.
Game Controls
Getting familiar with the controls of Soccer Random is key to navigating the unpredictable soccer matches:
Arrow Keys: Use the arrow keys on your keyboard to move your player.
Spacebar: Press the spacebar to kick the ball and interact with power-ups.
How to Play Soccer Random
Soccer Random delivers a delightful and unpredictable soccer experience with the following instructions:
Objective: Your primary goal is to score goals and secure victory in entertaining and unpredictable soccer matches.
Team Selection: Begin by choosing your soccer team or player character.
Gameplay: Engage in fast-paced and chaotic soccer matches where randomness is the name of the game.
Offensive Strategy: Use your skills to dribble, pass, and kick the ball toward the opponent's goal.
Defensive Tactics: Defend your own goal and block your opponents from scoring.
Power-Ups: Collect power-ups that appear on the field to gain temporary advantages or create amusing and unexpected events.
Unpredictability: Embrace the game's random elements, which can include changing field conditions and unexpected occurrences.
Winning: The team or player with the most goals at the end of the match emerges victorious.
Tips and Tricks
To excel in Soccer Random, consider these valuable tips:
Adapt to Chaos: Embrace the unpredictable nature of the game and adjust your strategy accordingly.
Power-Up Awareness: Keep an eye on power-ups and use them strategically to gain an edge.
Teamwork: If playing with others, coordinate with your teammates to maximize your chances of winning.
Goalkeeper Skills: If you're controlling the goalkeeper, practice your reflexes to make crucial saves.
Game Developer
Soccer Random is developed by independent game developers who aim to provide players with a fun and casual gaming experience.
Game Platforms
Mobile Devices: Download the game on iOS and Android devices to play on the go.
How to Play Unblocked
Playing Soccer Random unblocked is hassle-free. Visit websites or platforms that host the game, and you can typically access and play it without restrictions. Be sure to choose reputable sources to ensure a safe and enjoyable gaming experience.
Now, dive into the world of unpredictable soccer and have a blast in Soccer Random! If you have any further questions or need additional information, feel free to ask.