Game Overview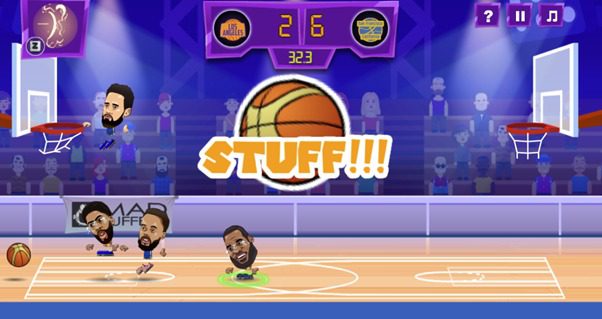 Basketball Legends is an exciting and fast-paced online basketball game that allows players to take on the role of legendary basketball players and engage in thrilling one-on-one matches.
Game Controls
Mastering the controls of Basketball Legends is essential to excel on the virtual basketball court:
Player 1: Use the WASD keys to move, B key to shoot/steal, S key to pump, and V key for super-shot.
Player 2: If playing with a friend, Player 2 can use the arrow keys for movement, the L key to shoot/steal, the Down Arrow key to pump, and the K key for a super-shot.
How to Play Basketball Legends
Basketball Legends offers an immersive basketball experience with the following instructions:
Objective: Your primary goal is to outscore your opponent and showcase your basketball skills in intense one-on-one matches.
Player Selection: Begin by choosing your favorite basketball player, each with unique skills and abilities.
Gameplay: Engage in one-on-one basketball matches where offense and defense are equally important.
Offensive Strategy: Dribble, pass, and shoot to score points. Master the use of super-shots for powerful scoring opportunities.
Defensive Tactics: Block shots, steal the ball, and defend your hoop to prevent your opponent from scoring.
Power-Ups: Collect power-ups during the game to gain temporary advantages, such as increased speed or accuracy.
Match Duration: Matches are typically played to a certain score, and the first player to reach that score wins.
Winning: The player who scores the most points and wins the match is declared the winner.
Tips and Tricks
To enhance your performance in Basketball Legends, consider these valuable tips:
Character Selection: Choose a player whose style matches your preferred gameplay, whether you prefer shooting from long-range or driving to the basket.
Super-Shots: Master the use of super-shots, as they can turn the tide of a match.
Defense: Focus on defense by blocking shots and stealing the ball from your opponent.
Power-Up Management: Utilize power-ups strategically to gain an edge during the game.
Game Developer
Basketball Legends is developed by MadPuffers, a game development studio known for creating enjoyable online sports games.
Game Platforms
Mobile Devices: Download the game on iOS and Android devices to play on the go.
How to Play Unblocked
Playing Basketball Legends unblocked is straightforward. Visit websites or platforms that host the game, and you can typically access and play it without restrictions. Ensure that you choose reputable sources to ensure a safe and enjoyable gaming experience.
Now, hit the virtual basketball court and show off your skills in Basketball Legends! If you have any further questions or need additional information, feel free to ask.