Game Overview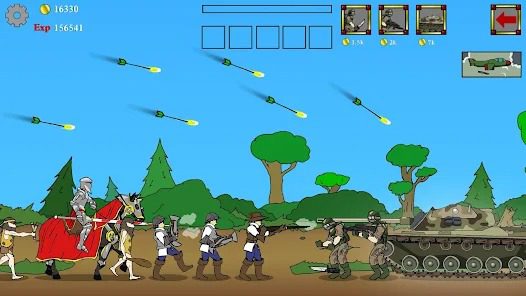 Age of War is a strategic online game that takes players on a journey through different eras of history. It challenges you to build and defend your civilization against enemy attacks while advancing through various ages.
Game Controls
Understanding the controls of Age of War is crucial for successfully managing your civilization:
Mouse: Most actions in the game are performed using the mouse, such as selecting units and building structures.
Hotkeys: Some actions can also be performed using keyboard hotkeys for quick access.
How to Play Age of War
Age of War provides a deep and strategic gaming experience with the following instructions:
Objective: Your primary goal is to destroy the enemy base while defending your own. To achieve this, you'll need to evolve through different ages, from the Stone Age to the future.
Resource Management: Collect resources like gold by mining, which allows you to build structures and train units.
Evolving Ages: As you gather resources, you can advance through the ages. Each age unlocks new units, structures, and abilities.
Unit Production: Train various units, such as infantry, ranged units, and special units, to defend your base and attack the enemy.
Base Defense: Build defensive structures like turrets and walls to protect your base from enemy attacks.
Attacking the Enemy: Launch attacks on the enemy base by sending units across the battlefield. Destroying the enemy base is your ultimate goal.
Upgrades: Upgrade your units and structures to make them more powerful and effective in battle.
Special Abilities: Use special abilities unique to each age to gain advantages during battles.
Victory Conditions: Win by destroying the enemy's base before they destroy yours.
Tips and Tricks
To succeed in Age of War, consider these valuable tips:
Resource Management: Efficiently manage your resources to ensure a steady stream of units and upgrades.
Unit Variety: Utilize a mix of different unit types for a well-rounded army.
Base Defense: Don't neglect your base's defenses, as they are crucial for survival.
Age Advancement: Plan your age advancements strategically to access stronger units and abilities.
Game Developer
Age of War is developed by Louissi, an independent game developer known for creating engaging and strategic games.
Game Platforms
Mobile Devices: Download the game on iOS and Android devices to play on the go.
How to Play Unblocked
Playing Age of War unblocked is simple. Visit websites or platforms that host the game, and you can typically access and play it without restrictions. Ensure that you choose reputable sources to ensure a safe and enjoyable gaming experience.
Now, embark on a journey through time and build a civilization that can withstand the test of history in Age of War! If you have any further questions or need additional information, feel free to ask.