Game Overview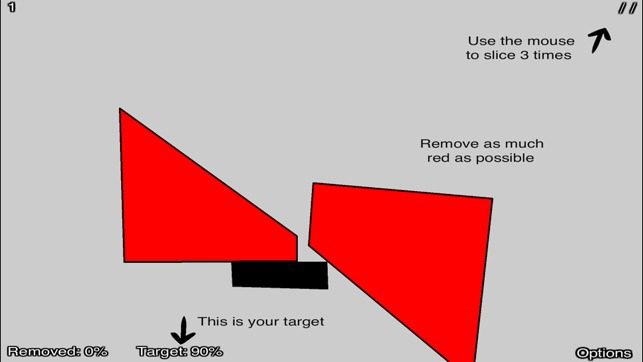 3 Slices is a captivating and challenging physics-based puzzle game that requires precise slicing skills. Your objective is to cut various shapes into equal-sized pieces using a limited number of slices.
Game Controls
Understanding the controls in 3 Slices is crucial for manipulating the shapes effectively:
Mouse: Utilize your mouse to click and drag to make slices through the shapes. Your goal is to create equally sized pieces.
How to Play 3 Slices
3 Slices provides a unique and brain-teasing gameplay experience with the following instructions:
Objective: Your primary aim is to divide the given shapes into equal pieces using only three slices or fewer.
Shapes: You'll encounter different shapes in each level, such as squares, rectangles, and irregular polygons.
Limited Slices: You have a limited number of slices (usually three) to cut the shapes into equal parts. The slices must be straight and can't overlap.
Equal Slices: Your slices must result in pieces of the same size. Precision is key to success.
Progression: As you progress through the levels, the shapes become more complex, requiring more strategic slicing.
Tips and Tricks
To excel in 3 Slices, consider these useful tips and tricks:
Plan Ahead: Analyze the shape and plan your slices carefully to achieve equal-sized pieces.
Use Fewer Slices: Whenever possible, aim to solve the puzzle using fewer than the allotted slices.
Practice Precision: Precision is crucial; make clean and accurate cuts to ensure equal parts.
Game Developer
3 Slices is developed by Gaz Thomas, known for creating engaging and challenging puzzle games.
Game Platforms
Mobile Devices: Download the game on iOS and Android devices to play on the go.
How to Play Unblocked
Playing 3 Slices unblocked is straightforward. Visit reputable gaming websites or platforms that host the game, and you can typically access and play it without restrictions. Always choose trusted sources for a secure and enjoyable gaming experience.
Now, test your slicing skills and puzzle-solving abilities! If you have any further questions or need additional information, feel free to ask.